Here are just a few specific benefits of what you will learn with the Basic Photoshop Training Program:
These will allow you to SAVE TIME learning Photoshop and use your time to reach your image editing goals daily and EASILY because you will understand how to finally use all of the tools, tips & techniques to accomplish any image editing task.
● Text editing and effects - So you can create very professional looking results in little to no time. This will help round out simple photographs by adding a finishing touch to them.
● How to create custom gradients & tool presets - Save time by creating your own set of tools' preferences to streamline and accelerate your workflow. You can create any possible color combination of gradient from any color in the rainbow and use it as a background or product backdrop- I show you how.
● Importing & Exporting files - You will be able to be 'up-to-speed' with the world of digital imaging and photo post-production. You will understand how to scan-in and work with files for print or web as well as saving files (in different formats) and compressing them for web use. You will also understand resolution and image size.
● Photoshop CS - All of the new features in their own video tutorials including:
● Type on a Path - Learn how to use this great new function for creating advanced typography just like magazine and advertising designers use all the time.
● New File Browser - Watch as I show you the best ways to use the file browser and organize your files. It is 10X more powerful than File: Open you won't want to be without it.
● Shadow/Highlight Adjustment - Magically turn your darkest photos into visibility! You will not believe your eyes and you'll want to start using this tool immediately on some of your photos.
● Color Replacement & Red-Eye Reduction - Easily make magical color replacements with this brand new tool. Easily fix red-eye in photographs with the other tool; watch as the evil, lurking cat turns friendly in the tutorial.
● Creating MetaData Templates - This will allow you to apply copyright/image information to entire folders or volumes of your images all at one time. Copyright all of your photo's or designs instantly with it embedded into the file, ready for distribution.
● Creating custom brushes & brush options - You'll be amazed at the kinds of brushes you can make and how you can use them. I show you how to use the brushes palette, how to make your own custom brushes to use for painting, special fx, or even hiding or erasing pixels with them.
● All Adobe Photoshop tools and palettes - Understand how to use the tools and work in the Photoshop environment so you can focus your time on your project and not the project of still learning Photoshop. You will see everything as it happens real-time in Photoshop and you will get very comfortable combining different tools and seeing how everything works together as I train you and also go through practical exercises.
● Creating shapes, filling selections with colors/gradients and more - Understanding these basic's can take you a long ways with graphic design in such areas as creating fliers, brochures, and really cool logo's.
● How to touch up and restore photos for much improved results in a matter of minutes (sometimes seconds)! You will learn how to use Photoshop's powerful Adjustment's and Filter's to your advantage to improve any and all of your images to impress yourself or friends with.
● Layer styles & effects - Tons of powerful instantaneous effects that novices can use to look like the pro's--you will use these a lot on text as I show you how. You will be able to create professional Typography for any photo or design. If you're new to Photoshop you'll probably just love the layer styles and the cool, dazzling stuff you can do with them to your layers.
● Understand & master the power of layers - the fundamental of all digital design. This is where each separate image becomes it's own moveable element. It is imperative that you really grasp this particular subject, so I spend a lot of time on it and use layers a lot to get you comfortable with them. When you know how to use layers, you will have the foundation to be able to start creating collages, montages, and ANY form of graphic design. You will learn how to use the selection tools to create new layers to become part of a graphic design.
Just think of how much time you'll save not having to figure all of this out on your own.
The Help Manual doesn't actually 'show you' how it's all done.
● Combining multiple tools in getting a quick and fast selection - There are many ways to get selections and different tools that you can combine together to get your desired selection, I cover them so you know what tools to use when to save yourself stress and hassle. Once you get a selection you can do many things with it such as adjust it, transform it, make it a layer and much more which I cover.
● Use Photoshop Adjustment & Fill layers - Learn how to apply adjustments such as changing the brightness values, or creating a gradient fill on completely temporary, disposable layers without damaging any of the pixels of your original layer/image. This is perfect if you're not sure you want to keep an adjustment or if you might want to change it quickly later.
● Layer sets, linking, saving files, exporting for web, merging - learn how to organize and manage your Photoshop workflow to save time during your projects. No need to have a messy workspace with these tips.
● How to make image adjustments - I cover it all including custom adjustment layers to apply an effect only to a certain layer without affecting the rest of the layers below it
● Keyboard Shortcuts are consistently reiterated during the training process so it becomes natural and can save you tremendous amounts of time. Before you know it you're working on your image editing and graphic design instead of trying to figure out how to use a certain tool and you're working fast using all of Photoshop's powerful tools that you now understand and don't let go to waste.
● Selections: all the tools, from basic to most advanced techniques (including the powerful quick mask mode): Learn how to select just about anything. (In case you don't know yet, you create a selection out of an image so you can do something else with it like put a person onto a different background or create a world where the lion can lay next to the lamb). I cover all of the tools including Lasso, add to and subtract from selection, marquee, pen & path editing tools, extract, color range and more - it's all here.
● The practical and instant professional power of layer masks and their applications (covered in dozens of tutorials to make sure you understand layer masking and its importance in pro design). I show you how to create that "perfect fade & blend". Now you can "hide" pixels and create smooth or fading blends in any image (used in 90% of all movie posters). You won't believe how easy it actually is with my special technique and you will look like a pro immediately!
● In-depth gradient tool - Understand how to use it for hiding pixels on a layer and also for creating your own professional colored backgrounds or fills.
● When to use the brush tools when masking (hiding pixels) - So you spend less time getting a highly accurate selection the FAST way. Quick masking will allow you to create your new layers such as people or objects with pleasant results.
Click above for a Screen Shot
You can view more specific info on each of the discs & screenshots further below
● Understanding and using vectors and the shape tools - create the kind of images you see in commercial advertising & design.
● History and Snapshot options - understand how to fix your work well after you've made a mistake
● Introduction to automation and actions - Learn how to use the power of Photoshop to do a lot of your grunt work with these powerful tools I teach you.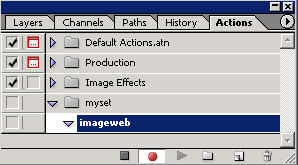 ....and much much more!