From: Orion Williams
Adobe Certified Expert, Photoshop CS2
9:27 PM
Dear Photoshop user & aspiring creative professional,
Do you really have a good idea of what you want to do with Photoshop? Are you aware that you can take it further beyond what you ever imagined?
Photoshop can be your greatest creative ally and NOT your enemy.
Yes, you CAN achieve a masterful proficiency and level of creative professionalism with Photoshop CS/CS2. It's going to take some work on your part but with the right resources (there are lots of them vying for your attention) you can apply yourself in the fastest way straight towards daily achieving your goals in graphics, desktop publishing and digital imaging.
You will have to know clearly what Photoshop means to you, what you want out of it, and which resources can save you time and money to help you get to your goals but the rewards will be worth it and you know it.
You don't have to be frustrated with Photoshop or let your own lack of proficiency hold your creativity (and ability to produce) back anymore.


Photoshop is a heavy & serious piece of software but if you can learn to harness it's power and apply your creativity and newfound knowledge through it, you will be able to not only increase your marketability but possibly earn a livable income as well.
You can also achieve a tremendous sense of satisfaction in your work which you can share with others. When you achieve Photoshop proficiency, you will be able to continually realize your creative professional potential in the visual graphics realm as well as reaching your specific imaging goals.

The creative and professional reward aspects of learning Photoshop can pay off for a lifetime. And learning Photoshop doesn't have to be expensive or painful in order to achieve your desires.

If your goal is to become a creative professional, then full Photoshop CS/CS2 proficiency training is a must. Maybe you just want to be able to USE Photoshop at the level that the creative professionals do to get your work done more efficiently.
Check and see if ANY of these areas interest you and think about 'why' it might be worth your time to gain a complete Photoshop CS/CS2 proficiency. Think about your goals and if they line up with some of these options.
You can Learn Photoshop to:

*Create professional, beautiful graphic works

*Meeting and exceeding certain job requirements/Job skills

*Achieve your image editing & graphics goals

*Enhance your marketability

*Grow your ability to effectively express yourself creatively

*Be the go-to photo expert for your family & friends

*Enhance your portfolio or resume

*Have an investment that will pay off through time in financial and personal fulfillment

*Increase your proficiency and performance

*Fulfill a mandatory step in becoming a creative professional

*Seek an enjoyable profession, burgeoning career or hobby

*Gain mastery over the program instead of intimidation and ineffective downtime

That list above covers many areas that can have a DRAMATIC impact to your lifestyle and future. There's just so many benefits you can get out of knowing how to use Photoshop CS/2.

Think about the doors of opportunity it will open, the expanded ability to create income, marketing of yourself or work, the potential to create personal fulfillment and effectively realize your creative ideas and dreams!

The good news is that you can fairly soon be at a full level of proficiency so you can start to CAPITALIZE on any of the benefits you saw in the list or the aspirations that you hold as your own.

I tell you it's a GREAT feeling knowing that you already know how to use Photoshop like a professional and it really gets good when you know that you can produce anything you want and you have your own history and logged hours in Photoshop to back it up.


This gives you confidence to take new design projects or image editing tasks on with ease. You don't have to be held back by a limited knowledge of Photoshop.

The sooner you start learning, the sooner you can start reaping the benefits of what you know that Photoshop can bring to you; higher work efficiency, professional image editing results, increased marketability, portfolio development, creative expression, personal fulfillment, etc.

It's worth the time to take to really learn Photoshop and have a resource there that will really back you up in it's concrete entirety; something that will be there for you to reference and continue to grow from.

But with so many available resources where you do you begin to choose the right option that will save you time and money and get you to your goals fastest?

Before I talk about the different options of training that are available, let's understand a little more about why you would use Photoshop because this is really important.

Once you know 'why' you would learn Photoshop, then you'll take the time to get the right knowledge so you can accomplish your goals; otherwise there is no point in learning Photoshop if you don't know what you want out of it...


Make sure you sign up for the Free 8 Part Mini-Course

(if you didn't on the way onto this page):

Let's take a look at some of the different areas in which you can apply Photoshop. Areas that you may be specifically wanting to learn Photoshop to master for.


YOU CAN LEARN AND APPLY PHOTOSHOP:

-to compete in the global or workforce marketplace and job market
-to earn a full-time or part-time income
-to offer your image editing services (specialty) to clients
-for photographic (or design) portfolio management
-to be able to edit images professionally and prepare them for any output
-for cd, magazine, postcard, billboard ...art design
-to 'define yourself' as a creative professional or even digital artist
-for creating CD or DVD labels & covers
-for high end digital photography & color reproduction/correction
-for fixing under or overexposed photos
-for movie poster design
-for product packaging design
-for automating redundant tasks
-for creating web or photographic templates
-to share images with friends and family
-for graphic design and advertising design
-for editing, altering, fixing, changing, touching up your (consumer) digital photos
-for vacation/memory scrapbooks
-for professional portraiture retouching
-for image restoration to improve quality or repair damaged/old images
-preparing images for print or web
-for creating business cards, logos, stationery
-for cool visual effects
-to create fantasy worlds or optical illusions
-for digital scrapbooking & embellishing your work
-for creating montages, collages and having fun with your pictures
-for photography post production & image or color correction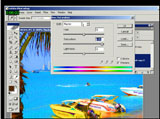 Imagine what you can do once you command a mastery
over the tools and techniques within Photoshop!
You can professionally prepare your images, touchup your photos, create entire ad campaigns, top end designs that sell, create art that inspires countless people and much more.

And you know what? Once you dig into Photoshop CS or CS2 itself...a million more little details become apparently possible of what you can do within each of those areas (and new areas) once you have the proper skill and training!

That's why I think it's important and you might realize this also, that a good foundational grounding in Photoshop will really allow you to apply your creativity combined with the power of Photoshop to achieve maximum results.
So many common image editing tasks will just become so easy that you didn't even know how to accomplish before. You can improve some images in a matter of seconds with the knowledge of how to use them in Photoshop.

Photoshop is REALLY just a tool and means to the end...your results!
...better images, polished products, creative expression, etc.; but one you'll LOVE working with once you understand how to apply it. The possibilities are only limited by your imagination!

I know how frustrating it can be to want to do something or replicate YOUR style or version of something cool you've seen but you will be ineffective until you actually know how to harness the power of Photoshop.

Don't beat yourself up over this...just understand that you just have to get the technical training so that you can exercise your creative freedom. Once you have that down, then it all becomes easy and enjoyable. Then, even more creative doors will open to you I personally guarantee.

Remember if you expect to become a creative professional, work in the graphics industry (or even some advertising or marketing positions) and earn an income, then you'd BETTER be
proficient with Photoshop.
Prospective employers won't take you seriously if you don't know what you're doing and you can't fake it!

It's best just to have that area 'handled' so you know that you are operational and functional if your job demands it or if you just simply demand that of yourself.
Creative professionals in many different fields use Photoshop as their main production tool, day in and day out and often solely rely on using it to complete the tasks and demands set out for them.

The top graphic designers, retouchers, movie poster designers, flyer & poster designers, photo restorer's around the world for the most part, all claim Adobe Photoshop CS/CS2 as their #1 tool of choice.

If you desire to become a creative professional or are already doing a little bit with it, then you know how much a full level of Photoshop proficiency can help expand your creative and income earning horizons.
Even if you're not in Photoshop for the money...
(making income from doing what you love), you can still take your creative potential to the extreme by getting a good foundational (and beyond) knowledge of how to apply Photoshop.
If you just want to be able to use Photoshop to create better photographic results or graphic design as a hobby, the high level of knowledge you can attain will allow you to reach professional results all the time.

If you're a photographer, you will be using Photoshop CS/2 ALL THE TIME. Professional photographers, assistants, publishers, fashion agencies, ad agencies, use it all the time to enhance their work and prepare a better quality image especially for print work.

All this power is just waiting to be unleashed at your fingertips!
Knowledge isn't power...applied knowledge is power.
When you have a complete Photoshop CS/CS2 proficiency and ability to be a POWER user, then you can REALLY exercise your creativity, have more control over your projects AND save a lot of ineffective downtime and unnecessary expense. Make your time in Photoshop 'uptime' and not 'downtime'.


This means that you can complete projects faster and get more enjoyable work done so you can move onto the next project of making money or creating an expression of your creative 'visual' self, just sharing touched up photos, etc..

If you haven't upgraded to Adobe Photoshop CS2 yet, it's absolutely worth it and only $149 to upgrade from any full version of Photoshop.

Take a look at what the experts have to say about the upgrade to Photoshop CS2. Be sure to consider the full Creative Suite 2 itself for a complete creative professional turnkey software solution.

Just know that if you're going to be a creative professional or someone that is just REALLY effective in one of the areas that Photoshop covers, know that a foundational grounding will be a source of strength and knowledge for years to come.

In fact,
aspiring creative professionals will often spend thousands of U.S. dollars just to train themselves in Adobe Photoshop CS/CS2
(even just the initial foundational training).
Yes, they're serious and that's your competition (if you're job seeking). But do you have to do that? No. It's just one of your options; there are more affordable alternatives.
There are 10,000's of creative professionals using Photoshop everyday who are earning a living and creatively expressing themselves effectively around the world because of their working knowledge of Photoshop.
But what about you? Don't you want professional results?
Do you want to achieve your goals now or later? The good news is that there are training solutions which will get you there a lot faster and those which will take a lot longer and cost you more.
If you're at the point where you're ready now to start editing your images and achieving the worthwhile goals that you have set out for yourself, I encourage you to do something about it!
You don't HAVE to be frustrated with Photoshop any longer.
Once you know that you just 'have to learn' Photoshop, then it becomes quite clear that it's what you have to do and then there is no question you just have to learn.
You will seek out potential resources, make some investments and start applying what you're learning so you can progress forward.
When you reach this point in your mind, then the millions of details of Photoshop almost become inconsequential because you know that you'll just learn them and get them 'handled'. This will make you aware that learning Photoshop doesn't have to be stressful and every little part will have it's place. Just knowing this can be a great burden lifted off of you.
Remember that Photoshop is just the means to your end, so you know that you have to really 'learn' it in order to get the results you want.
You may have some experience in Photoshop and may even had some training programs before but realize that you might just want a full on 'cover it all' Photoshop CS/CS2 training program.
So where do you start to look and what's a good deal?
So what is the best Photoshop CS/2 training
method for you and your particular needs?
I've discovered some information after researching the Photoshop training industry marketwide and I think this information will help you make an educated and informed decision on the Photoshop training methods which may be right for you.
▪ I have trained 10,000's of Photoshop user's worldwide with my online Photoshop tutorials, Photoshop websites and supplemental training products with great customer service and hundreds of positive testimonials.
▪ I have been to 3 PhotoshopWorld Conferences and am a member of NAPP (National Association of Photoshop Professionals).
▪ I am an Adobe Certified Expert for Photoshop CS2 and educators have come to me for training assistance.
▪ I have been featured several times in Graphics.com newsletters for my tutorials
and dozens of websites such as good-tutorials.com, webdesign.templatemonster, etc.
▪ I am also a professional graphic designer who leads by example and has spent 1,000's of hours in Photoshop- it's what I do.
▪ I also have an online community and offer free portfolio space to my students (where they can upload and get their work critiqued) on one of my design focused websites.
▪ My business 'Dreamcore Productions, Ltd. is now a proud member of the Houston Better Business Bureau. We abide by high quality standards and customer satisfaction.

"Hi Orion
Just wanted to let you know I think your tutorials are the best I have come across...
I have been working Photoshop since it came out and currently image manipulation, matte painting and background painting at the Art Institute of California.
Thank you!!"
-Briar Lee Mitchell, Professor - Art Institute of California at Los Angeles
www.starmountainstudios.com
www.diistudios.com

BriarLee@aol.com
"...These days, with hundreds of books and million of web tutorials on the Photoshop, it is relatively easy to find what you need. However, your dedication and passion for the matter is not that easy to find elsewhere. Thanks again and, as allways, keep us lectured and skilled."
Kind regards, Dalibor Marinkovic dalibor.marinkovic@ri.htnet.hr
_________________
If you're serious about finally learning Photoshop you know you're going to have to make an investment of 'some' sort. You may be considering taking a 'hands on' type of training or signing up at a special school or even University.
But my goodness, that really is a large investment and a big step to take: paying $1,000's of dollars just to learn Photoshop in that environment. Even if you get a 'Certificate' of completion of a course, does it really mean you can USE Photoshop? Don't forget that in a classroom, that's a once time experience so when it's over, it's over and your money is spent!
Photoshop is a tremendously powerful yet intimidating software program, and if you're like I used to be, you've probably wasted countless hours trying to figure things out on your own. Or worse; you've left the program aside because you were too fed up with the sheer power of not knowing what to do with it, so you temporarily gave up!
Not knowing how to fully use a program such as Photoshop can leave you quite frustrated. You KNOW what Photoshop can do and more importantly you know that you have things you want to 'get done' with it.
So you know you need an education solution that will
ultimately enhance your ability to earn income.
But why does it all have to be so difficult?..
If you're a student who is starting out learning, Photoshop can be a monster of a program to get a grasp on.
So there is always expensive classroom training, but isn't there another REAL alternative where you can truly learn everything you want to WITHOUT spending a small fortune to achieve the same results?
Well, you won't find any substantial amount of free Photoshop training online either. To try and put together bits and pieces here and there (from sources that don't really exist) to come up with your solid education is a complete losing proposition as well.
The internet is full of 'clone sites'
that will teach you about the same neat little tricks as the next site, but don't really teach you PHOTOSHOP and how to edit images with it like a creative professional (and I'm sure you've searched and found a lot of these sites online). In fact, those tutorials don't even lay a foundation for growing into graphic design itself.
In fact, if you're at all serious about your Photoshop future (especially if you want to be a creative professional) you'll understand that those sites (which dominate the industry online) won't get you where you want to be.
If you want to just get by with the hundreds of free tricks or Photoshop gimmicks that you can find on the internet (they all seem the same) and not find anything of real 'substance' or foundational value from which you can really grow from with Photoshop CS/CS2, then this page isn't for you.
A lot of those types of people can duplicate all kinds of cool effects they learned online for free, but really DON'T know how to use so many of the features Photoshop has (and you WILL).
How about reading the Adobe manual for Photoshop CS/CS2?
I don't think anyone's read the entire thing and it's still not going to show you step by step 'how to use' Photoshop...it's meant as a reference and should stay as an almost 'last ditch' reference guide. That's not how most people learn anyways...do you?
There are also some quality video programs available online but only teach just a smidgeon of what you really want to learn. To try and piece all those together doesn't come close to laying down a foundation of understanding and operational excellence for you.
There are even books in bookstores but half of those just focus on fun effects and the others just aren't effective enough or don't cover enough ground to fully verse you in everything that you should know about Photoshop in an educational manner that is conducive to learning. You're a visual person.
Reading a gargantuan book should also be left to being a technical reference manual instead of a step-by-step guide. You want something that you can actually 'learn from' and easily - not something that sits on a shelf or intimidates you.
You know that your time is valuable so you don't want to waste it on ineffective or overly expensive training solutions..So...if you just can't get valuable complete Photoshop training for free, ruled out reading the manual or hefty books, and you're not sure if you want to spend $1000's of dollars in a classroom environment...
Then what is the best all around solution for you to become a fully proficient Photoshop CS/CS2 user ?!?
Hi, I'm Orion Williams and I invite you to discover more about what I believe is your best option and solution for comprehensive, professional grade Photoshop training that you can actually learn from WITHOUT overspending your time or money. In fact...
I want to give you a solid foundation of complete Photoshop CS/CS2 proficiency and THEN top it off with tons of inside industry techniques and secrets (more applicable to the real world & money making work that's available).
Hey, I didn't want to read the manual either because it doesn't 'show you' how its done. I also didn't want to spend thousands of dollars on classroom training, simply because I DIDN'T HAVE that kind of money at the time so it wasn't an option.
But because I wanted to learn Photoshop so bad, I stubbornly dived into the program (without any guidance at the start) and over the course of several years eventually got to where I am at today. But, the pain I went through in learning Photoshop in the early stages and all of the wasted, ineffective downtime you don't need to go through. I mean, it was bad...I don't know why I was so stubborn.
So you are quite savvy to realize that you should really get a training solution somehow to help you gain a headstart on the technical and creative aspects of Photoshop.
If you've already spent frustrated hours, believe me I was there as well. And I look at all the clone sites online and think, is there really NOWHERE where someone can just "learn Photoshop online"?
I went to a non-imaging conference in Anaheim, CA and everyone I talked to either wanted to learn Photoshop themselves or knew someone who did and I was thinking..."Man..I'm doing something with it online but I REALLY want to get this out to the people because there are a lack of training options and millions of people worldwide are begging to learn Photoshop."
In the infinite A.D.D. vortex that is the internet, we still don't have websites dedicated to teaching and applying Photoshop instead of just doing cool tricks with it? Amazing..
There really is a lack of full training options online, so
when I created some free 'Basic' Photoshop tutorials and uploaded them to some of the 'clone sites' they actually had to create a new 'category' for that- for standard 'how to use Photoshop' tutorials! That is just preposterous but goes to tell you what kind of real training you can expect online. I don't think those people even know what 'Adjustment Layers' are.
That's nice that Photoshop can reach so many different markets of people within itself (and the 'clone sites' serve their purpose), but what about the legions of people worldwide who are looking for real, comprehensive, industry grade Photoshop training that can help them advance in their careers or creative professional endeavors?
And what about you?
I'm sure you're here because you want to see how you can reach your Photoshop goals effectively while becoming proficient in as short a time as possible. You want to edit your images to achieve results as well as understanding the reasoning behind it so you have even more power to use Photoshop to realize your creative aspirations.
You may even just want to know about TONS of insider, cool techniques and tricks that the professionals use...(funny thing...the institutional teachers frown upon this kind of stuff though)..
And believe me, the fun REALLY begins once you understand how to use the tools and techniques to achieve amazing results because then the power shifts to what you can do with Photoshop.
If you're LOOKING for a viable alternative (kudos to you) and aren't one of those strict "by the books-education-HUB" person (and I've met them) who believes the ONLY way to learn is to follow the system for a few years and learn through student loans then you're probably NOT the type of person who might even hold the possibility that you could learn from a viable alternative such as what I'm about to offer unless you're willing to expand your mind.
There's nothing wrong with a University education...
but if you think that's the ONLY way to learn something, then you'll also have other problems dealing with life in the real world and keeping up with the times. Fortunately, I think you're open to other realistic possibilities that are just as effective or even moreso as their counterpart.
Adobe Authorized Training Centers are great, but they do have a higher price tag...
YOU DON'T NEED TO SPEND A SMALL FORTUNE ON PHOTOSHOP TRAINING
Most likely you've looked at a couple different training alternatives already. Perhaps you even have some of those books or specialty videos and spent some money...but you're still looking for the "meat and potatoes" Photoshop training.
Most people need something more 'active' than just reading a book to learn...think about it, the percentage of people who watch t.v. to reading. Reading isn't always the best answer to find out 'how' to do something that is extremely visual.
If you do get a book, make sure it has several photos (screenshots) on every page or you're just NOT going to know what's going on with Photoshop, unless you are a very technical type of person who learns that way (by reading) and can apply it but most people aren't like that.
If you have already taken courses...
you've probably realized that there is still so much more to learn about Photoshop, you weren't really fulfilled and you realize that you have to keep spending more money to keep getting more and more training (see how that kind of system perpetuates itself)? All of a sudden you've spent thousands of dollars (and even more if you need retraining).
Either way, making an INVESTMENT in yourself and your education is one of the smartest things you could ever do. If you use and apply the skills you learn, you will be making headway in life and your career.
And like I said before, you are smart and savvy to be seeking out the knowledge from a source that is where you want to be because it will save you a ton of time and headaches.
You want to make an investment in your education that can not only be proud of immediately, but that will keep paying off in results in the long run as well.
Whether you're an aspiring creative professional, an amateur-advanced photographer, business owner or corporate employee you have your own reasons for learning Photoshop.
You should expect a professional quality of training.
Yes, classroom training can get you there but it is quite a big step to take, financially and that's putting a lot of pressure on your shoulders as to where you have to perform and commit to it.
What about a lower cost solution that will get you to the same proficiency level that you can really feel comfortable and good about?
I do think you're really open to a professional, viable training alternative other than spending the oft 'expected' thousands of dollars in more 'formal' training.
So what is this ultimate 'all around'
solution for those on a budget?
That solution is video tutorials training. Just because you could spend thousands of dollars on more formal training doesn't mean you'll remember everything that you learned in the class anyways. You can't go back to the class after it's over (and you'd best remember everything you're learning there for the amount of money you're spending).
The advantage of having professional quality video tutorials is that you can truly learn at your own pace and the materials will always be there so you can keep learning from them. It's the gift that keeps on giving.
You can review any lesson at any time you need and you get to see and comprehend everything as it happens when you are experiencing the training.
This is a HUGE advantage to learning in your busy lifestyle. You can proceed slowly, taking different subject areas one at a time or just soak in everything as much as you can, when you want.
With video tutorials training you can actually see everything captured in 'real time' with video and audio, showing and telling you straight from the teacher captured right within Photoshop and playing back on your video screen or computer. Pause or rewind until you understand a concept at any time.
And you can start applying everything you learned immediately in Photoshop.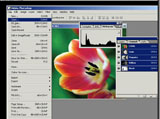 Because you are a visual person, this is an incredibly effective way to learn and more effective than reading a book..you want to be immersed in the training because it's easier to learn when seeing it being done by a pro who is explaining everything.
And there's no more downtime for you putzing around in Photoshop anymore because you'll be brimming with all of the new knowledge and techniques that you'll want to explore.
And, as a professional Photoshop user myself (and trainer) with years of experience and being a Certified Expert for Adobe Photoshop CS, I would love to be your personal trainer...to take you from where you are at now with Photoshop to where you want to be - and on your time schedule with Photoshop CS video tutorials training I've recently produced.
I want you to know that I am here to help you make it EASY to learn Adobe Photoshop. Yes, learning Photoshop should be easy. You will finally be able to stop wasting time trying to 'figure it out' because you'll be spending your time editing images with fast and professional results.
There is no need to be frustrated or intimidated about learning Adobe Photoshop CS or CS2 anymore.
I will guide you along the way in the Photoshop CS video tutorials training. Now you can achieve the exact same level of proficiency as those who are learning in classrooms without spending the expected $1000's of dollars in a classroom environment.
Heck, maybe you have the money for classroom training but are too busy for that or the schedule won't work out. I know a lot of people around the world, especially in India & Malaysia who may not have access to classroom training and are desperate for real Photoshop tutorials training that can put them on edge with other Photoshop users around the world as part of their career.
Really, truly learning Photoshop CS & CS2 will allow you to unlock your creative professional potential and achieve your digital imaging results. With the solid foundation I'm going to teach you about 'everything Photoshop', you will be able to further mold for yourself the direction you want to take professionally.
You will be ready to meet the industry demands that are out there or goals that you have set for yourself in the professional digital imaging realm.
You will have greatly enhanced your own marketability and ability to earn income with these tutorials I'm about to introduce you to.
What really matters is what you can do with Photoshop and where you end up with as your skill level. How you get there is up to you. You are in exactly the right place at the right time because I have just released my brand new, highest quality Photoshop CS & CS2 complete proficiency video training solution.
Not only is the quality and educational value of this training on par with anything on the market, this training goes beyond the few other comprehensive Photoshop CS/CS2 training programs because it also teaches you applied techniques throughout several hours of additional tutorials...
...NONE of the other programs have this. These are real world bonus tutorials training that you won't find anywhere else.
I'm talking about bonus tutorials on advanced retouching, colorizing black and white, replacing body parts, graphic designing, collaging, selecting hair, advanced compositing, using ImageReady for web and much more (those are just SOME of the additional training included) ...So take a look...
__________________________________
Presenting the -
TutorialKey Training
for Photoshop CS & CS2
12 DVD's w/ 30+ hours of training in 100's of lessons.
Includes 6 hours of BONUS invaluable graphic design, practical
exercise and real world add'l tutorials that you won't find anywhere else.
Take a look at any of the discs below if you want to find out a little more specifically about the training and what is covered (everything) and where.
*To find out more specific info on the training in each of the discs (as well as some
screenshots) just click on any of the Disc icons below to have it pop up in a new window.
Believe me...with the mini-lessons inside the sub-tutorials...it's all here!

Click any DVD disc to find out more detailed information
on what is covered in a separate pop-up window.
Environment & Selection/Layer Basics Tools
Tools File Browser & Menus
Filter Menu & Options Layers
Working with Layers Image Menu & Import/Output
Adjustments Palettes & More
Practical Exercises Bonus Tutorials & Graphic Design
Sample Flash Video Clips: Colorizing Sample, Layers Sample, Paths Sample
Minimum Requirements for Windows & Macintosh
Must have a DVD Player and DVD software on computer to run. Will also work on TV DVD players (most models) and most all international computer dvd drives. Speakers are required for audio. Training program was produced in Photoshop CS & CS2 and applies to all versions of Photoshop (the later your version, the more features you will be able to understand and use that I cover). Click here for a detailed Q&A.
Orion, Thanks a lot for the quick response. I'm relatively new to Photoshop and I'm very excited to learn from your exercises and examples!
Aloha, -Pat Honolulu, Hawaii
"I have ordered several different training programs for Adobe Photoshop and the tutorials you get from Orion Williams are far and above anything I have found so far. Really enjoy them and learning at the same time. Thanks Orion",
-John P. Staples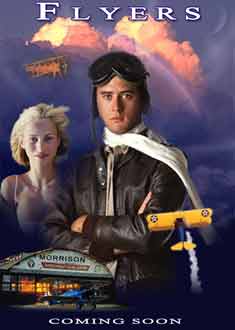 (Photoshop Designer purchase: previous customer of mine...TutorialKey does NOT teach you movie poster design)
"..Although I stumbled around and picked up a few basics on my own such as the concept of layering, learning Photoshop without help was intimidating and frustrating... a bit like trying to learn to fly an F-18 without an instructor! Specifically, the Photoshop program began to come alive when I found your site and began to learn about Gradients, the Pen, Erasure and Magic Wand tools, as well as a host of other tools.."


...Photoshop is actually quite easy and fast to use, once you have the right instructor! Orion, thank you for your magnificent website and for all your help in opening up a whole world for me in graphic design!" -Best wishes,
Jim Myer
This brand new, 'hot off the press' training is 30+ full hours of Photoshop CS DVD video tutorials training. Other complete training programs that are out there (there are only a slim few anyways) cover up to 20-24 hours of training. This is the single largest Photoshop CS Tutorials Training that is available anywhere, and it's ready for you right now!
7/19/05 "Orion, Thanks, thank you, thank you! You have opened up a whole new aspect to
Photoshop that I knew was there but never had taken the time to try and learn. You make
things so much easier. I can't wait to receive my DVD's and go to town..."

-Michele Welch welchgd@wilkes.net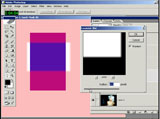 Click here to get started (and get some valuable surprises as well).
Or keep reading to find out more.
_________________________________
Even the Photoshop 7 (or CS) Bible from Deke McClelland doesn't take you through hand by hand. That was a Great reference book for me though, a while ago.
Scott Kelby has some great Photoshop videos out but even he's not crazy enough yet to do 'complete' Photoshop training, so really you can only pick up bits and pieces here and there by getting all their stuff and different focus videos.
Here you can get foundational Photoshop training and tons of bonuses (including focus area training) - all in one package at a super reasonable small investment.
Even Deke's Photoshop CS Total Training on video (the only other real competition) is a great resource (and I know people that would buy both TutorialKey and Total Training and still save thousands on classroom education because of their hunger to learn) but doesn't give you the real world bonus application tutorials that are extremely unique to TutorialKey.
If you really have the money and can afford the traditional route to learn Photoshop -great. But I do think that TutorialKey training is the most all around economical and ideal solution and in fact when you get the training, you'll be part of a special guarantee that no one can match so you can see for yourself.
I have a proud tradition of integrity and honesty with this business...
"So much appreciate it for your kind and quick respond on my request, I trust your professional service and your high business reputation.
Please let me know too if there is any new thing comes up. I am excited always to learn new things. Once again thank you."
Regards
-Arry
greenleaf_photography@hotmail.com
7/10/05 I was writing the email asking you what I can do about having previously ordered the Madison Ave. DVD & before I could even finish, you wrote to me telling me that I have a $113 credit for having already purchased it. Now that's service. I have to say I'm amazed. That level of service & honesty as (at least I thought) impossible to find on the internet. ....Thank you very, very much. I have to say that you definitely just got yourself a lifelong, loyal customer.
Sincerely, Walter F Gremba Jr
So let's review here...If you:
●Are online and looking at a viable alternative to expensive classroom or traditional 'hands on' training
●Are feeling limited because you just don't understand how to put all of Photoshop's tools together or know how they work...
●Are tired of tutorials here and there on the internet not giving you the "Big Picture" of Photoshop and it's real power...
●Just want to finally LEARN everything you can about Photoshop and image-editing as painlessly as possible so you can move forward with your creative professional aspirations...
then with the TutorialKey Photoshop Video Tutorials Training you can now...
●Save yourself thousands of dollars on the expected path to full Photoshop proficiency
●Understand and master all of the tools, features and countless professional techniques by learning Photoshop from a professional so you can move forward with expressing your visual self & increasing your market value
●Cut your Photoshop Learning Curve drastically so you can start doing what you want to with your increased 'uptime' while achieving effortless results
●Learn as much and even MORE than in a classroom environment (which can cost 10 times as much) while having something permanent to fall back on while learning AT YOUR OWN PACE so you can EARN much more
With this jam-packed Photoshop Video Tutorials Training, you'll get not only a fully comprehensive and educational Photoshop CS experience at the highest technical and educational quality (from an Adobe Certified Expert, Photoshop CS - me), you'll also get 6 hours of bonus tutorials that take your complete training even further by going through practical exercises and focusing on multiple real world image editing scenarios.
This is immersive Photoshop CS & CS2 tutorials training at it's best
and I take you right into the heart of fully learning EVERYTHING! The video tutorials will really help you understand the once-intimidating software so you can be using it extremely proficiently in the shortest amount of time possible.
"The Photoshop CS/CS2 TutorialKey training that I recently acquired has taken me to another level in such a short time. The tutorials are so easy to follow and well explained which really helps the learning curve. It is almost like setting in a classroom and having your questions answered... Well done!!."
-Norman Greenwood, California U.S.A. hipockt@hotmail.com
SO..NOW YOU CAN ACHIEVE THE SAME RESULTS AS LEARNING IN A CLASSROOM WITHOUT SPENDING THAT KIND OF MONEY
Nothing held back. The TutorialKey DVD's are
beginner through advanced Photoshop training.
And remember, you can learn at your own pace as well. All lessons are there for your review so you can reference them whenever you need to (unlike a classroom environment).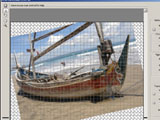 You see, I really want you to LEARN PHOTOSHOP. I want to help you succeed in reaching your Photoshop dreams and goals. I don't want you to go through the pain that I went through in learning Photoshop because it didn't need to take that long and it doesn't have to be that expensive.
I want you to have the option of affordable, full quality training so you don't have to invest thousands of dollars to achieve the same results through the mainstream 'accepted' method of classroom training.
You are going to learn such an incredible amount of information about Photoshop and how to apply it, all without having to go through the manual or having to pay for expensive 'hands on' classes. You also won't need to keep buying other trainer's 'bits and pieces' training here and there online or in bookstores (unless you want to) because you have the foundation, the rock - right here with TutorialKey.
Imagine yourself reaching your Photoshop goals, whether you are a photographer, graphic designer, artist, digital video artist, hobbyist, business owner, even if it's required for your job..
To reach your ideal and long term goals pertaining to Photoshop,
it all starts with foundational training.
Not only do these TutorialKey Photoshop video tutorials provide that necessary framework for you (instead of just some pricey 'cool tips' DVD) to build on, but the video tutorials cover many of the other areas that you are interested in as bonuses to give you the additional boost to further explore your options.
...This is an incredible added value to you when you get the TutorialKey training.
A full understanding and proficiency in Photoshop is priceless, whether you're going to use Photoshop for a career or otherwise. Adobe Photoshop CS the world's #1 image editing tool and is the industry standard for professionals worldwide.
Just think of the visual world around us...billboards, magazines, advertisements, brochures, packaging, products...all of it is a conscious creation by people, just like you, in the visual realm.
Photoshop not only is the choice of these top professionals but can give YOU the power to unleash your creative potential and compete for work in the marketplace.
Don't let the scope of the software program itself or your lack of knowledge bog you down from reaching your goals anymore.
All you need is the right training tools and I believe this IS it. There is always more room for creative professionals in the world who have something of quality to offer.
What do you have to offer to clients and the world?
Are you going to be able to make that happen if you can't master something miniscule such as using the lasso to get to your end result? You already know that the 'clone sites' (who comprise most of the Photoshop industry online) won't get you where you want to go.
All you need is to understand 'how to use' and apply Photoshop and then you can put your creative energy to work effectively so you don't have to waste anymore time being hindered from the lack of knowledge that is currently holding you back.
TutorialKey Training for Photoshop is your trustworthy training source from which your future digital prowess will flow and grow from. I produce professional work all the time and I'm passing onto you the foundation (as well as many of the insider guru secrets) to power-using Photoshop.
MASTER the multitude of tools and techniques with the Tutorial Key video tutorials training so you can unlock your creative potential starting today! The longer you wait, the more you know that you're going to be holding yourself back from truly reaching your Photoshop and digital image editing goals.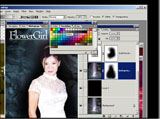 The bonus training that's included will fulfill your desire for cool tricks and techniques as well.
You will be so excited with all of the things you are learning of substance and breakthrough, that you will have countless 'aha's especially if you have been trying to figure things out by yourself. I'm giving YOU the leverage of my knowledge of power-using Photoshop CS from the barebones methodology to tweaking and shortcuts on finishing projects..
"Your tutorials are great! I appreciate your making them available. Although I've been using Photoshop for several years, your tutorials have cleared many functions that are so complex. " -Lawrence P. Bestmann
"Hi Orion:
I just purchased your DVD's and I wish to thank you for the fast response and complete answers you have given me. I am looking forward to working with your system. Thank You. " -Larry laloleb@earthlink.net

I have managed to acquire the basic knowledge, but could never in my wildest dreams hope to accomplish the wonderful results your students have achieved...What a clever young man you must be, 'a visual', how I wish I had your knowledge, although it is my belief, that you do not learn these skills, you have an inheritant brain that automatically can achieve the answer to the problem. Orion this is to thank you,
Kindest Regards.
-Joan Demosthenous - Brisbane Australia. joandemos@optusnet.com.au

Thanks very much Orion! You're a great trainer... Let me know if you ever do more "one sheet " training.
ttys,
Charlie
leffingwell
Hi orion I'm edith Adriana, i love your job, and i
have learned a lot with your cds i would like to share
with you some of my posters, using all your tecnics.
ealgleon@yahoo.com Brasil
More great news that will keep you excited:?
You won't even have to worry about spending the 'expected' thousands of dollars anymore on a 'real' foundational education.
In fact, once you dig into your TutorialKey training, it doesn't even have to be an option anymore. You can even cancel out any plans of getting your foundational training at an expensive seminar or classroom setting if you want (heck, go to some special, focus seminar with the money you saved).
Because of the sheer scope of Photoshop there's just SO much to learn (that's why very few have even tried full-on video tutorials), it's GOING to be expensive to get a full-on education with that route but with the TutorialKey training set, you're good to go.
You'll know that you saved yourself a lot of money so you can focus instead of paying off some debt, focus on your increasing Photoshop skill.
What if you're already taking or have taken institutional or 'hands on' Photoshop courses? Excellent...
the TutorialKey Training DVD tutorials are a PERFECT SUPPLEMENT to ANY 'hands on' training you are taking or have taken.
In fact, I will be marketing this training towards vocational schools and institutions to help balance out THEIR curriculum for their students (and to help train the trainers with THIS exact training). It hold it's own weight as a full training solution but when combined with other training can provide a perfect go-to resource for you to keep learning from.
Remember you can start to get an impression of the training by looking at the promo and intro videos, sample clips, as well as the discs that are placed above on this page. But here are just a fraction and I mean a FRACTION of what you will learn:
Here are a few specific benefits that you will get with the TutorialKey Training for Photoshop CS:
These will allow you to SAVE TIME learning Photoshop and use your time to reach your image editing goals daily and EASILY because you will understand how to finally use all of the tools, tips & techniques to accomplish virtually any image editing task you can come across.
I cover it all in practical training and exercises recorded live, explaining what I'm do.
● Text editing and effects - So you can create very professional looking results in little to no time. This will help round out simple photographs by adding a finishing touch to them.
● How to create custom gradients & tool presets - Save time by creating your own set of tools' preferences to streamline and accelerate your workflow. You can create any possible color combination of gradient from any color in the rainbow and use it as a background or product backdrop- I show you how.
● Importing & Exporting files - You will be able to be 'up-to-speed' with the world of digital imaging and photo post-production. You will understand how to scan-in and work with files for print or web as well as saving files (in different formats) and compressing them for web use, weighted optimization, slicing & ImageReady and saving with transparency. You will also understand resolution, image size and interpolation and ALL of the menu options.
● Creating custom brushes & brush options - You'll be amazed at the kinds of brushes you can make and how you can use them. I show you how to use the brushes palette, how to make your own custom brushes to use for painting, special fx, or even hiding or erasing pixels with them.
● All Adobe Photoshop CS, menus, tools and palettes - Understand how to use the tools and work in the Photoshop environment so you can focus your time on your project and not the project of still learning Photoshop. You will see everything as it happens real-time in Photoshop and you will get very comfortable combining different tools and seeing how everything works together as I train you and also go through practical exercises. All saving you an INCREDIBLE amount of time and mental effort.
● Creating shapes, filling selections with colors/gradients and more - Understanding these basic's can take you a long ways with graphic design in such areas as creating fliers, brochures, and really cool logo's. Easily get a head start on design projects with this information.
● How to touch up and restore photos for much improved results in a matter of minutes (sometimes seconds)! You will learn how to use Photoshop's powerful Adjustment's and Filter's to your advantage to improve any and all of your images to impress yourself or friends with.
● Layer styles & effects - Tons of powerful instantaneous effects that novices can use to look like the pro's--you will use these a lot on text as I show you how. You will be able to create professional Typography for any photo or design. If you're new to Photoshop you'll probably just love the layer styles and the cool, dazzling stuff you can do with them to your layers.
● Understand & master the power of layers - the fundamental of all digital design. This is where each separate image becomes it's own moveable element. It is imperative that you really grasp this particular subject, so I spend a lot of time on it and use layers a lot to get you comfortable with them. When you know how to use layers, you will have the foundation to be able to start creating collages, montages, and ANY form of graphic design. You will learn how to use the selection tools to create new layers to become part of a design or new project or to create special custom adjustments.
Just think of how much time you'll save not having to figure all of this out on your own.
The Help Manual doesn't actually 'show you' how it's all done.
● Combining multiple tools in getting a quick and fast selection - There are many ways to get selections and different tools that you can combine together to get your desired selection, I cover them so you know what tools to use when to save yourself stress and hassle. Once you get a selection you can do many things with it such as adjust it, transform it, make it a layer and much more which I cover.
● Use Photoshop Adjustment & Fill layers - Learn how to apply adjustments such as changing the brightness values, or creating a gradient fill on completely temporary, disposable layers without damaging any of the pixels of your original layer/image. This is perfect if you're not sure you want to keep an adjustment or if you might want to change it quickly later. I show you how to do non-destructive editing so you don't have to start all over again.
● Layer sets, linking, saving files, exporting for web, merging - learn how to organize and manage your Photoshop workflow to save time during your projects. No need to have a messy workspace with these tips.
● How to make image adjustments - I cover it all IN DEPTH including custom adjustment layers to apply an effect only to a certain part of one layer/image without changing anything else in the document. All adjustments are explained thoroughly so you will understand what is going on.
● Keyboard Shortcuts are consistently reiterated during the training process so it becomes natural and can save you tremendous amounts of time. Before you know it you're working on your image editing and graphic design instead of trying to figure out how to use a certain tool and you're working fast using all of Photoshop's powerful tools that you now understand and don't let go to waste.
● Selections: all the tools, from basic to most advanced techniques (including the powerful quick mask mode): Learn how to select just about anything. (In case you don't know yet, you create a selection out of an image so you can do something else with it like put a person onto a different background or create a world where the lion can lay next to the lamb). I cover all of the tools including Lasso, add to and subtract from selection, marquee, pen & path editing tools, extract, color range and more - it's all here and cross-referenced throughout the entire training program so you really can start using them right away to achieve results.

● The practical and instant professional power of layer masks and their applications (covered in several tutorials to make sure you understand layer masking and its importance in pro design). I show you how to create that "perfect fade & blend". Now you can "hide" pixels and create smooth or fading blends in any image (used in 90% of all movie posters). You won't believe how easy it actually is with my special technique and you will look like a pro immediately!
● In-depth gradient tool - Understand how to use it for hiding pixels on a layer and also for creating your own professional colored backgrounds or fills.
● When to use the brush tools when masking (hiding pixels) - So you spend less time getting a highly accurate selection the FAST way. Quick masking will allow you to create your new layers such as people or objects with pleasant results.
● Understanding and using vectors and the shape tools - start to create the kind of images you see in commercial advertising by using some of these features. You will fully understand the pen tool, paths palette and how to modify advanced selections or paths using the path editing tools. This will allow you to get much more accurate results.
● History and Snapshot options - understand how to fix your work well after you've made a mistake. This is covered in depth as well as everything else, so you really understand Photoshop CS and what is going on. There is no more need to be uncomfortable with anything in Photoshop anymore.
● Introduction to automation and actions - Learn how to use the power of Photoshop to do a lot of your grunt work with these powerful tools I teach you.
● Curves Adjustment - understand how to use the most powerful and feared weapon of them all to have the maximum control over adjusting different portions of your image. You will be truly amazed at the photo editing professional power that you will harness after the Curves tutorials and you will never be afraid to use it again.
● Practical Exercises, Graphic Design Tutorials, Bonus Tutorials
Many hours worth of additional bonus training tutorials that really go beyond any other training program (even classroom) and starts putting 'everything together' for you. These bonus tutorials alone are worth your investment in the program because of the value you will get out of them and the high level of experience and real world knowledge of application that will be transferred directly to you to work with.
This is the only industry-grade complete Photoshop CS tutorials training program that offers anything additional like this IN THE WORLD. And it's a gift from me to you. I want you to hit the ground running with these tutorials as your single greatest Photoshop resource.
....and much much more! In fact, I encourage you to take a look at the Course Overview to get a good idea of what's included. Remember also that there are countless mini-lessons within each of these tutorials that are too numerous to mention.
You Will be operating smoothly in Photoshop in the shortest possible time!
So, I ask you to think about it; are you ready to learn how it all works now once and for all? This way you can stop wasting your time that you keep fanagling with learning Photoshop, or debating whether you're ready to commit to something that requires student loans or hefty credit card debt?!
Are you ready to make the investment in your personal or professional education and get things moving forward?
It's time for results and progress in your hands, ESPECIALLY if you invested the money into Adobe Photoshop or Creative Suite. You deserve to experience the level of results that others are enjoying and professionally capitalizing* on...
"I just wanted to thank you for creating the best photoshop training DVD's I have ever had. After watching the CD's I was able to create four very nice posters for a local band. I always knew the basics of photoshop, but was never able to use the basics to create some great digital art.
When I went to Kinkos to have my posters printed. The clerk behind the counter was so impressed. He hired me to create a poster for his band. Once again, thanks for the great training." -Kevin Ginyard, Maryland
___________________________________
"... after just one week of view some of the DVD's I was able to put together sample designs to show to prospective clients and landed 4 paying jobs.....The fullfilling part of is, I was more versed in vector design programs(Corel Draw) to do t-shirt designs and stuff and have only been using Photoshop for about a year and a half. Now to me that's results.....The training has been a great help to me and I would definitely recommend this training to those who really want to get into really learning Photoshop and not have to worry about being overwhelmed."

-Brandon Spain
bspain@sport.rr.com Contest Winner: Best Student Designer
___________________________________
*capitalizing on some of my other training (Photoshop Designer Package). I do teach some graphic design techniques towards the bonus end of the TutorialKey training or you can get 'everything' in the TutorialKey Mega Package. Just think of what I can do for your Photoshop CS/CS2 proficiency because the quality of the TutorialKey is much greater than the training they're talking about because I've vastly improved since then.
Right now they're having pleasant bliss in working with Photoshop, meeting exciting challenges head on and earning income from their work while you continue to struggle at way less than your capability?! We're talking about REAL WORLD PHOTOSHOP here.
This training is also great foundational prep upon which to get ready for the ACE exam (though it will take some more advanced study in the Help Menu as I had to do myself). It's all here so you can learn fast.
Do you want things to stay the same or do you want to get yourself up to a market-ability level and be able to produce imaging results?
It's not possible to 'pretend' you know how to do it when you really don't. Your weaknesses will become supremely self-evident. I will guide you in these ways to ease you into becoming fully proficient and with practice you will become 'unconsciously competent' so you can work with ease, accomplish more, save time and make more money.
All you need is great training from a dedicated mentor at the right price but you must take some action. If you don't, your competition is going to get further and further ahead of you, leaving you in the dust.
But when you get yourself up to speed (or the industry standard level of operability), YOU can be the one who starts developing a portfolio of great work and passing others up, and competing for work and projects. I encourage you to ACT TODAY to start achieving your Photoshop and full market potential.
If you want to learn Photoshop for yourself personally, then you know you're not living up to your potential because you KNOW that you really want to learn Photoshop for what you can do with - and that's why you're here.
It should really 'irk' you to know that your ideas will become even more expressive and vivid once you have the mastery of tool and technique that I will train you on; but if you DON'T take action you will never know the level of creative expression that you could achieve.
Give yourself this great gift and power to achieve results and you will be opened up even further to what you can do in Photoshop, I guarantee it. You will relish this sense of adventure and I welcome your breakthrough testimonial as well.
It's a great feeling to be helping people breakthrough all over the world in achieving their Photoshop and career aspirations, to be able to get them to that level where they really let their creative energies run free because they've had enough training or just the boost they needed.
My students* get results and see boosts in their
productivity and ability to acquire work. You can view much their work anytime and soon your work can be online as well.
"Orion, I really appreciate all your help and your easy to follow tutorials and video's, I am learning something new everyday, I plan on starting a business soon, even though I am a beginner you have given me the confidence to succeed"
-John kline
"Thanks to PhotoshopDesigner (part of TutorialKey) the most that I expected was the less (beginning of) that I got. Trade this knowledge on stock exchange. Graphic design school here is your competition."
"..hello its me cary here are my last two designs for the contest... last one is a flyer i did which i got paid for kool i used layer masking and the hue color thing. thanx i'm learnin alot more then i did at college" -
"Orion, you are so incredible, with the very few months experience I have with photoshop my class is going to be the envy of me when I return back to school after the holidays and push some of the most incredible designs, my class and teachers will be so surprised of how did I learn to use the effects I have come up with all from doing your tutorials. You don't know how much you are helping me expand my graphic design.."
-Sabena
Moore9935@comcast.net
"I just received the new download files. Purchasing..was one of the best purchases I have made. Not only are the tutorials informative and helpful but the continued education is an unbelievable bonus. ...my work has improved so much and I do enjoy the words 'well done Jackie'... Thank you for sharing your vast knowledge of Photoshop with us."
-Jackie Graham, Canada

"Your programs are, without a doubt, the best and fastest way to learn PhotoShop that is currently available. However, just as important, is the service you provide. Not only do the DVDs arrive very quickly, but when a problem occurs, you take care of it immediately."
-Jack Stacey
Portland, Oregon

"Yes, it's working great! Love the tutorials so far! Easy to follow and understand. I'm in the QuickMask section now....and it's actually easy to understand and follow along! This is much better than buying textbooks." Thanks, Jeff
"thanks for all your help! it's made me a much better designer"

expansion designs (barton smith)
expansiondesigns.deviantart.com
"Thanks to you I have made huge improvements in all my "creations" and I have (only) you to thank for it!...Thank you Orion! You constantly keep me motivated to keep on Photoshopping." Your Fan,

Catz Contest Winner: Most Improved Designer
*Students who may have purchased other previous training programs of mine
p.s. my previous training programs were on different websites for the past 2 years but now because of a deal with Adobe that I would start to stop using 'Photoshop' in the actual domain name itself, I've had to restructure and now I'm spearheading "TutorialKey Solutions" On this website you will now find all of my training.
Keep on reading so you don't miss anything!
Here is a little mini-lesson for you...as we continue:
For this tutorial grab the lasso tool in the toolbar.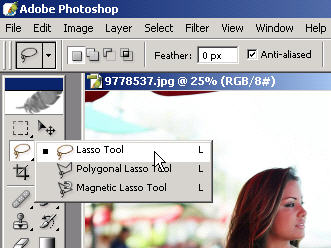 Now make a general selection by dragging the lasso around your subject.
Try to keep it as close as you can. You have to go all the way around the subject to meet endpoints to close off the selection.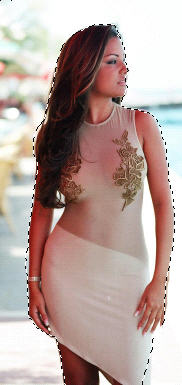 This is a basic and old school way of making selections which you must understand. There are much 'better' ways which I cover in the video training but once again; it's imperative that you understand the fundamentals and grow from there.

Once you have made a selection around your subject, switch to the moVe tool as shown.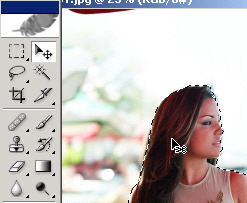 Now you can place the cursor inside the selection and 'move' it. Try doing this and dragging it around. See how the space is left there where she used to be?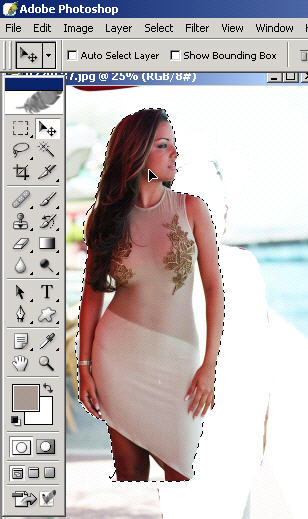 If you're wondering where the actual water and sidewalk went then I can't help you (but yes you could fix it..that'd be another lesson).

Go to the History palette and undo your last command of move to put the subject back in place.
To work with your new selection on it's own, go to Layer: New: Layer via copy. This places the selection onto it's own layer (very important to understand).
You can also right click when you are on a marquee or lasso tool and choose Layer via Copy to put the selection onto its own layer. There are ways to edit the (lasso) selection which are covered in the video training and other tutorials included.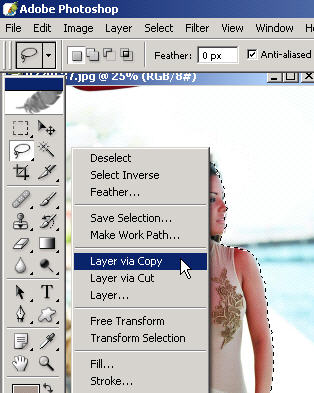 Now you have basically duplicated your subject and put it onto its own layer. Here I've got her on her own layer (you can see the invisible space around her in her layer on the palette).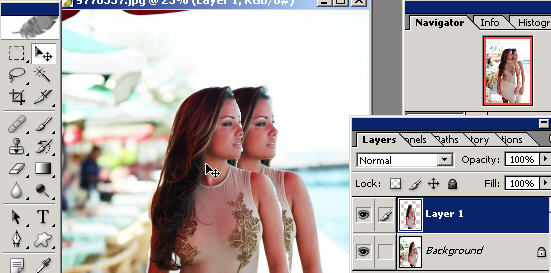 Remember that there are better, more accurate ways of selecting which we'll get to. It takes a steady hand to use the lasso. Keep on learning, because once you understand the fundamentals you can go a long ways into your real goals with Photoshop!
How can I even begin with the sample above?
There's so much to learn that it took 33 hours of video tutorials to cover it all in!
"Thank you. It is good to know that you can do business with someone and if there is a problem they answer you promptly."
-Linda Caldwell
"Thanks for your prompt reply Orion, I just LOVE good service, thus, you just made my day! ;-) Kind regards and take care,"
-Karl (Belgium)
"Thank you for your prompt reply. I've been in business for over 40 years and know how important it is to give good service and I really appreciate it when I find someone who also believes in and practices this basic principle."

-Jack Stacey
"YOU BEEN VERY HONEST FOR US IT SHOULD BE EVERY HUMAN LIKE YOU,IN THIS WORLD. AND I ALSO THANKS,YOU SENDING TO ME CONTINUED E-MAILS.
YOURS SINCERELY", MR.R.S.SANDHU.
"Cool! Man I knew you would come through. Please out."

Gregg Lamar
Freelance Photographer
greggh5@netzero.net
"Your site is fantastic. You are the king in photoshop". -Jeancarl Medina
Netherlands Antilles (Curaçao) judcarl.medrom@curinfo.an
"..I must say you're a professional in the way you do business as
well as your admired level of photoshop ability..." ...Rotem
rotembor@rotemsweb.com
"Yes want to be professional graphic designer and i had never seen or heard any one like you before. You are a great teacher." -Deo mbona@raha.com
"So much appreciate it for your kind and quick respond on my request, I trust your professional service and your high business reputation.
Please let me know too if there is any new thing comes up. I am excited
always to learn new things. Once again thank you."

Regards
Arry
greenleaf_photography@hotmail.com
Even from a critic:
"I really didn't expect such a thoughtful reply. Your honest assessment of your skills and the state of your program is refreshing..." -Dave Mendlen
7/10/05 I was writing the email asking you what I can do about having previously ordered the Madison Ave. DVD & before I could even finish, you wrote to me telling me that I have a $113 credit for having already purchased it. Now that's service. I have to say I'm amazed. That level of service & honesty as (at least I thought) impossible to find on the internet. ....Thank you very, very much. I have to say that you definitely just got yourself a lifelong, loyal customer.
Sincerely, Walter F Gremba Jr
But back to the TutorialKey and how it can meet your training needs...you might have some more questions...Here, I want you to take a look at this special video that will help explain the Photoshop CS Video tutorials training a little bit more.
You must have Flash 7 in order to view it.
Note: The quality of the video and audio IS greatly compressed for web use
but the actual DVD video and audio is clear.
Move your Cursor over the bottom area to reveal the Flash Player Settings and to start or pause the video.
If it doesn't start playing after you press play, then you can download Flash 7 here.
Orion:
"Got it...all is A-OK! The training is the best...worth the wait! I learn more from your style of instruction than with the more"liner" type of training. I flip on the lava lamp, open some wine, light-up, sit back and learn. Keep it up. ... Thanks again!"
Charlie
(on madison ave.)
A real investment in your education and future is going to cost you 'something', wherever you're at in the world, and that's the truth (unless you're a librarian without a life). The TutorialKey Photoshop CS education solution is about 10 times less than you would spend on formal, classroom education to achieve the same level of operational proficiency.
If you can afford institutional training then you can easily afford this valuable training and you will be very happy with it as a perfect supplemental training tool with virtuous hidden treasures to discover. If you can't afford hands on training, this is an ideal training solution for you at the right price and you will be extremely happy with it GUARANTEED.
When you apply what you learn in this 'easy to follow' comprehensive Photoshop training program YES you will be extremely competent and well ahead of the game.
So, for the modestly small investment of now only $249 (USD) you can own your copy of the entire newly released 12 DVD training program with 30+ hours of the most useful, practical, step by step, easy to learn Photoshop video tutorials you'll find anywhere.
I think that's definitely a fair price considering the amount of lifelong digital imaging skills you will have with a vastly increased market value in Photoshop and your ability to produce as well as great self-satisfaction knowing that you can compete in the fast-paced industry AND you'll have saved a ton of money on your professional Photoshop training.
And when you consider that the going rate for Photoshop video tutorials training is $20 per hour of training, that puts the real retail value of this training at $600. That's an unbelievable 53%+ savings but still a worthy investment at that price when you compare it against the cost of traditional, classroom training.
You're getting hundreds of lessons, countless mini-lessons and 30 hours of top quality Photoshop education in one complete set. Remember this is the largest single video tutorials training product on the market.
You see, I didn't hold anything back on this training and jam-packed it into the tutorials so you don't miss a thing..
Your products are awesome. I am going through the photoshop tutorials over the last two weeks and they have substantially increased my knowledge of the application in a fraction of the time I expected...
When I go home in the evening I am actually excited because I know I will learn more about Photoshop.
And thank you again for your tutorials and project files. I am learning more than I ever anticipated from your products. My wife thinks I've become addicted to Photoshop and that it is your fault :)

Chris Grillo
Florida, U.S.
The DVDs have open my eyes to a lot of powerful information that you can do using PhotoShop and it has also helped me out making DVD Menus using Encore DVD. Photo Shop CS, Premiere, and Encore DVD all work great together.
Best Regards,
George Carreon (Stationed in Iraq)
"I just wanted to tell you how much fun I am having with your TutorialKey DVDs! I thought i'd be bored through the first few discs since I've used PhotoShop so much in the past. I thought I knew all the simple stuff-- but man was I wrong!
I have learned so much about tools, shortcuts and simple special effects already. I can't wait to get into the more advanced stuff. I also appreciate the high quality, professional looking Tutorialkey packaging. What a valuable and great looking set of dvds! Thank you so much!"

-Mark LeGault
But just to make this an even more valuable offer for you; for a limited time only, I'm going to throw in these powerful Bonus Items. If they are listed right now you can receive them when you order right now, otherwise I can't guarantee that you'll ever receive the bonuses. Take a look at what else you will receive when you order your TutorialKey Training right now.
FREE BONUS ITEM #1:
Tutorial Key Training: CS2 Features DVD
2 hours 36 mins.
(This makes it a total of 33 hours of Photoshop video tutorials training on 13 DVD's)
This special Bonus DVD training goes into Photoshop CS2 tutorials on the new features so you know how to use and apply them in real world workflow situations. There are so many awesome upgrades with the latest new version of Photoshop CS2 (aka '9') that are covered in this feature packed tutorials training DVD.
● Adobe Bridge - There are so many hot features in the brand new Adobe Bridge application alone, that its going to get you pretty excited. You can now change the size preview of your documents with a slider as well as multiple viewing methods, batch renaming, advanced search and metadata functions and a whole new complete look in this separate application. Understand how to use the Bridge (the replacement to the file browser) in this nice, long tutorial. There's no better way to organize and manage all of your work across multiple Adobe applications.
● Exposure - In this tutorial I go into the new Exposure adjustment that Adobe has added and how to use it to not only make adjustments to your images but understand the production and post-production process even better. You will further understand the histogram palette and be shown how to set black white or gray points to clip areas of any image when setting or adjusting the exposure.
● Image Processor - Now it's EASIER than ever to batch process your photos. Saving files used to be tricky in the batch process but with Image Processor it's a snap. I show you how it's done. This tool alone can save you hours of time resizing, saving, automating, even applying actions across thousands of files to help free your mental energy up.
● Lens Correction - If you've ever had lens distortion, chromatic aberration or even vignetting, this powerful new feature allows you to accurately correct an image to get it to how it should look in the first place. You will understand how to use and apply this great feature.
● Merge to HDR - Photoshop CS2 is taking digital photography to the highest level with 32bit color support in this feature of Merge to HDR (high definition reproduction) which will allow you to reproduce for print the real world spectrum of color that you see with the naked eye. Specific requirements must be met so I go through this feature so that you understand it and know how to use and apply it.
● Vanishing Point - (3-D) Vanishing point is a powerful, show-stopping feature in Photoshop CS2. It will allow you to edit, select, paste, clone and work with layers on the actual perspective plane that you define in any image. This feature is perfect for reshingling a home, creating billboards, extending sidewalks, cool effects, making buildings taller and so much more all without the pain of trying to match up pixels like you had to try and do before.
● Warp Image - The brand new 'Warp Image' transformation is so cool, yet so practical. Now you can wrap product comps around objects, create real 'fly away' effects and basically warp any rasterized or pixel based layer with even more control than you had over the text warp option. You're going to LOVE this feature because of its fun practicality.
● Short Menu, Type Preview, Reduce Noise, Spot Healing and more - In Photoshop CS2 you can now customize your actual menus themselves and what you see visible. This REALLY takes customization and interactivity to the next level. I show you how to do this as well as showcasing the new Type Preview, Reduce Noise filter and how it works to reduce grainy noise in your photos. You will also know how to use the new Spot Healing Brush (super consumer friendly) to get instant photo fix-ups on scars, blemishes, imperfections, pimples, etc. as well as the new Red Eye Tool itself.
● Smart Objects & Smart Sharpen - In Photoshop CS2 the layers palette has gone through some major changes and I take you through this in practical exercise and education so that you understand how to use it as well as fully understanding the new Smart Objects feature. This allows you to do nondestructive editing and transforming on layers you designate so you never lose quality. This is a real power feature that will retain the quality of your work as you can keep the original, highest quality source material as your updated reference through the end of your project.
You will really understand how to use smart objects and how to apply changes from a smart object to the actual working document itself. This nondestructive editing power is phenomenal and is taught in a fun tutorial that leads into an actual design project itself with a little digital scrapbooking and advanced layer work. You will also learn about the new filter of smart sharpen and how this is the best sharpen filter yet.
...and more great Photoshop CS2 video tutorials training on this exclusive Features DVD as a FREE Special Bonus when you order now.
For online customers only (not retail/resale), when you order now you'll also receive...
LIMITED TIME ONLY
BONUS ITEM #2 (instant access):
60 TKey 'Basic' Photoshop Tutorials
($39 Value)
I don't want to have you wait until you get the training DVD's in the mail. I want you to start learning as much as you can right now! This is why, for a limited time only, I'm throwing in an additional 60 TutorialKey Photoshop CS tutorials on PDF. ________>>>

You will get INSTANT access to these within a minute after your order is approved. But I must say that this special offer is for a limited time only.

You must order now in order to guarantee instant access to these 60 additional tutorials ($29 value) which you can save to your computer and view anytime you want. This offer may not be up tomorrow, in fact I plan on taking it down soon.
"...Ive printed and read your Basic Photoshop tutorials and I may say, that I have been doing a part time studies course for 1 1/2 years now on desktop publishing which incorporates Photoshop and this is the only time that I fully understand and got the full grasp of the Basics of Photoshop when I read your manual, much, much better than the school manuals and some Photoshop books that Ive read. Your tutorials are well written and well visually laid out that even a newbie like me will no doubt be able to follow the steps. Now Im excited and wish I'll get your DVDs sooner..."
Cheers and Thanks
Nina Liddicoat -Australia
BONUS ITEM #3 (instant access):
42 Graphic Design Tutorials
on full color printable PDF format (613 pages for both sets). ($49 Value)
Above are 2 of the 42 design tutorials featured.
These instantly available and downloadable special bonuses will get you started RIGHT AWAY! The step-by-step 'from scratch' design tutorials are an exclusive opportunity because it is SO RARE to find anything like them online. I'm the only one who has made them and you get them for free and on FULL-COLOR PRINTABLE PDF (613 pages)! This is a HUGE value and top industry sites clamor to host these specific tutorials.
"I can honestly say I'm a better graphic
designer now than I were two weeks ago.
Keep up the good work as many designers as myself look forward to receiving much more great stuff from you. Take care."

Ancil.
boy23fromarima@yahoo.com
Orion,
"I just wanna say thank's to you, because you helped me alot to understand how to learn graphics design especially in photoshop. Your tutorial is very good so i can design better, now i understand how to use the tools, retouching n many more. I hope you can always teach me about photoshop, because my skill was the basic. last, i really sorry about my english. once again thank's alot bro' ."
aloen76@yahoo.com
"Thanks you are the BOMB...(QQ) "
moore9935@comcast.net
The non-pdf versions which are sometimes available online, people drool over worldwide (seriously) and some are featured on sites such as good-tutorials.com, tutorialman.com, tutorialized.com and others.
And for a limited time only you'll also receive the TutorialKey Downloads Package. This I will be taking offline every now and then so you must order NOW in order to guarantee you get all of these instantly available bonuses. I cannot guarantee they will be here tomorrow.
BONUS ITEM #4 (instant access):
The TutorialKey Downloads Package ($29 retail value)
Including everything you see listed below on the .jpeg from my PhotoshopDownloads.com website as well as instructions on how to load the awesome shapes, grunge brushes, patterns, cool layer styles. You can start using these awesome downloads immediately. You even get 60 Photoshop CS tips. When I release the Photoshop CS2 tips, you'll get those as well.
Tons of royalty-free Downloads for you to use in your work including
DOZENS OF PLEASANT SURPRISES.
BONUS ITEM #5:
Your own Online Portfolio Space ($19 retail value)
Online Portfolio space when you are ready, where you can get your work critiqued by other Photoshop designers worldwide. You will be able to upload to the special 'customer/students' only section. Upload your work so it can get noticed as well as get some feedback from other active designers.
All customers can ask me any technical or creative Photoshop question simply by email.
BONUS ITEM #6:
"The Real World Guide to Photoshop Power" eBook
Learn how to freelance, increase your market value,
explore more training options & much more! ($39 retail value)
"..I have received both the photo retouching and restoration DVDS' along with basic photoshop DVDS'. I have tried a few tutorials from the internet but, yours is far superior to any of the others i,ve tried. It is as good as having your own personal tutor over your shoulder. The constant tutorials you keep sending are absolutely brilliant. My photoshop knowledge has come on immensely thanks to you.

..." -Alan SALWARDS@aol.com

Hi. I do appreciate your lessons and have purchased the 10 DVD collection. I am serious about it, I have had Adobe for approximately 6 years and much of it is quite confusing. I find your material the best so far as to make it quite simple to figure out. Thanks again.
ron wirch rewirch@mb.sympatico.ca

"You have a lifetime customer in
me so I'll be getting something from you soon.
Have a happy and safe holiday season with your family!
God bless!" -Howie
All together that's an unprecedented amount of top quality Photoshop training, but here's the thing...
If you DON'T take the action now to finally get a handle on Photoshop, how much time is it that you'll be spending still trying to learn and discover the different tools or figuring out how to do this or that when you could be using that same time well-spent on editing images, sharing images for print or web, graphic designing or PASSING your competition?!
With this Tutorial Key video tutorials training for Photoshop CS & CS2 you will get there the fastest way possible and it'll always be there for your reference so you can learn at your own pace.
You KNOW that you'll be saving a ton of money compared to institutional, seminar or classroom training while getting the best and MOST value and Photoshop power on the market today. Click here to take the step forward now.
And remember when you order now you will get the valuable instant bonuses as well. These types of valuable bonuses don't even exist in a classroom training environment...it's just super added value that will really get you moving.
Still on the edge? Here's the deal:
Take one full year to examine, exploit and put this training to work for you so you can spend your time getting work done in Photoshop. That's right. You can take 365 days to put the full training to use and test it out for yourself. Learn and use as much as you can. I'm confident you'll NEVER want to send it back!
In fact I probably wouldn't be able to pry it out of your hands because I know it will mean that much to you. This is my best training to date.

You can keep the 102 Downloadable Bonus Tutorials as well as the Photoshop CS2 Features DVD RISK-FREE no matter what you decide.

But if you aren't satisfied for any reason, you don't like my use of colorful images, or it just doesn't live up to your expectations, you won't lose anything. Just return the DVD's and I'll refund your entire payment - right up to day # 365 and you still keep the bonuses!

That's how confident I am in the level and quality of this training and how much I know it's going to help you with Photoshop 'uptime' and not 'downtime'. That's a

Hassle Free, One Year - 100% Satisfaction Guaranteed

or your Money Back.

It's a guaranteed gain no matter what you decide and should help you make a sound investment decision and through time see for yourself if it's truly worth it. I honor all refund requests and will make sure you get your refund after sending back the 12 DVD training course and I will work with you to make it happen.

"I WOLUD LIKE TO SAY YOU THANKS VERY
MUCH FOR SEND ME A $112.00.CHEQUE I WAS RECEIVED.
I PUT IN TO MY BANK FOR CASH.YOU BEEN VERY HONEST
FOR US IT SHOULD BE EVERY HUMAN LIKE YOU,IN THIS WORLD.
AND I ALSO THANKS,YOU SENDING TO ME CONTINUED E-MAILS."
YOURS SINCERELY,


MR.R.S.SANDHU. England

(customer who wanted refund on another product)
"I picked my way through Photoshop for five months until I purchased your TutorialKey training for Photoshop CS, and my world exploded!! This training is a must have for anyone wanting to realize the full potential of their creativity in graphic design, photo touch-up and restoration etc. through Photoshop. And the real world bonus tutorials...man, they're on fire!!!
-Francis Escayg, nylonsky@gmail.com 8/17/05
"I have ordered several different training programs for Adobe Pho