For in depth Blog & RSS information click below for the

Q: How do I use this website or where do I start?

A: Thanks for stopping by TutorialsTraining.com. This site is meant as a resource for you to learn Adobe Photoshop 7 through CS2 as well as specifically applying Photoshop in more specialized areas.

Depending where you are with Photoshop and where you want to go, you may be interested in the more specialized training areas of application (found on Other PS Training) or you may want to just start out with the Flagship training solution of the TutorialKey Training for Photoshop CS/CS2.

This site (TutorialsTraining) and TutorialKey Solutions will always be online and dedicated to offering the millions of Photoshop enthusiasts & students worldwide (such as yourself), a more affordable alternative to comprehensive and specialized Photoshop training than what one would find in a traditional classroom setting.

These solutions are a viable, economical and valuable educational opportunity for you to learn and apply Photoshop to reach your own professional or personal goals.

Flagship Product info

TutorialKey Training (flagship product) is geared towards beginner and intermediate students with an emphasis on using and mastering tools in practical scenarios, establishing good habits and operating efficiently within the entire Adobe Photoshop environment. The program will drastically reduce your Photoshop learning curve. The leverage of information is on your side. And that leverage is knowledge and power in your hands to master & learn Photoshop and then start designing.

There is no better way to start from scratch or being a novice and learning how to work in Photoshop. This isn't some of the cute 'clone' style tutorials (what I call them in our industry online) that'll teach you a special trick here and there, this is the complete Photoshop video training: how to use everything.

This investment in your education may be one of the best decisions you could make! You can save thousands on the traditional route of learning Photoshop in a classroom. The rewards you will experience are long term as long as you continue to apply the wealth of Photoshop knowledge that is contained within these video tutorials and bonus training materials. You can also take advantage of the specialized areas of Photoshop training on this resource site.

Q:

What is the

Tutorials Training Messenger

and is it only for PC? Why?

A:

The Tutorials Training Messenger is a downloadable application that allows me to contact you directly through your desktop. You can choose which messages you want to see or open. It is not spyware, you can uninstall it at anytime and the only information I collect is your name, email address and the # of messages viewed. Your information of course will not be shared with anyone else and will be held strictly confidential.

The free downloadable messenger is unfortunately only for PC and NOT for Mac. This is because of the software provider..they only have it available for PC. If you have a Mac it won't download and won't work until they come out with an upgrade (hopefully). Sorry Mac users...I don't know of the same program that's available for Mac yet.

Q:

How do I uninstall the Tutorials Training Messenger?

A:

You can uninstall the Tiki Messenger by going to Start: Control Panel: Add or Remove Programs: and Remove 'Tutorials Training Messenger'.

Q: Are there other ways to order other than just online?

A:

Though the online ordering process is secure, Yes...

You can phone 715-423-2161 between 10:30 a.m.-10:30 p.m. CST; this method you can pay via credit card over the phone where it will then be manually entered for approval within 10 minutes of hanging up the phone and you will be emailed further notification of your approval. Products will ship out within 3-48 hours.

You can also order via paypal, cashiers/bank cheque, money order, Western Union, business check, or personal check (u.s. only). Many international orders have been received via these methods. The outsourcer will prepare your order immediately and then send it upon clearance of the funds. Make out payments to "Dreamcore Productions, Ltd." and use the address at the bottom (5140 Stoney Brook Rd. Rudolph, WI 54475)

You can print out the order page, fill in the blanks and fax your order to 715-423-2161 if you would prefer not to order online.

Q: Are the training programs for Mac or PC?

A: BOTH...

It is important to note that just because all of the TutorialKey training products were produced in a PC environment in Photoshop, doesn't mean that they're not for MAC users. If you're a MAC user, please understand that there is basically no difference between Photoshop in PC and Photoshop in MAC other than the basic look of the software.

If you have a Mac, as long as you can 'stomach' learning from a PC video tutorials training program, it is exactly the same in your Mac because what you are learning is PURE PHOTOSHOP. You can apply EVERYTHING you learn in the video tutorials in a Macintosh just as well as a PC user.

All TutorialKey Training DVD Solutions are cross-platform...

They can be played on either Mac or PC (with a DVD drive & DVD software) even though captured and taught in the PC Photoshop environment.
Q: Is the video tutorials training in Photoshop?
A: Yes. What you see is the full-screen Photoshop environment. I have recorded audio and video in real-time of everything that I am doing IN Photoshop. I explain everything that I am doing within Photoshop from tools, to techniques, to theory and reiterate many important facts in an easy to understand way so that you can retain the training right up front and engrain more of the advanced techniques through repetition.
However, it is not "interactive". With over 33 hours, I would have to charge maybe a $1,000 for the same training to make it interactive. You can find interactive lessons out there but notice that you'll only receive a FEW tutorials (not NEAR 250). You learn from the DVD's and practice and progress in your version of Photoshop by applying the techniques that you learn.
Instead of wasting time trying to figure things out, you will actually enjoy putting the lessons to use because your time will be spent effectively AND you can learn at your own pace.
If you have a t.v. DVD player or another computer you can watch lessons and work in your version of Photoshop at the same time.
Q: Are the discs available on CD (as compared to DVD)?
A: Depending what you order, NO. The Discover Photoshop: CS Bonus CD is on CD (compact disc) which comes with the Photoshop 7 training. Digital Scrapbooking except the video training sets come all on CD.
The rest of the training products are compressed to squeeze onto DVD's because of the massive amount of space the video tutorial files take up. To fit them on CD would take about 100 CD's. Sorry..DVD is the call.
Q: Can I choose which tutorials I want to watch?
A: Yes. With your DVD player on your computer you can click your mouse to navigate through the different menus. On a T.V. DVD player you should use a remote control for full navigational functionality. You can also use the Course Overview to help guide you along.
In the TutorialKey training it has become quite easy to navigate because with this training product, the tutorials are named what they actually are and located within the group they should be in so it's easy to get to the lessons you want.
On the DVD's, it is quite easy to choose which tutorials you want to watch. I know that people have complained before about the Photoshop 7 training (priced lower) so I changed it this time to make it very easy and clear to choose which tutorials you want and where to find them with the TutorialKey Training.
In the flagship, TutorialKey Video tutorials for Photoshop CS/CS2, if a tutorial has a 'Scene Selection' next to it, you will just click on that to see that tutorial broken up into different lessons to choose from. This way you can choose to play the whole tutorial or go to the scene selection if you want to start at a different part of the tutorial. Scene Selections are included in the Course Overview. This makes it easier for you to get to the training that you want.
Remember that the lessons all include countless mini-lessons within them, so it's really meant that you go through all of the training and then use the Course Overview as a guideline for reviewing any areas of interest.
Q: Does Adobe Photoshop come with the DVD program?
A: It is sold separately and can be found at many retail stores and online. No, in the future we may be selling Adobe Photoshop CS on our website. Photoshop CS2 retails for $599 and upgrade for $149. You can purchase Photoshop CS alone or in a bundle with the entire Adobe Creative Suite of products; either Standard ($899) or Premium ($1199). They include Photoshop CS2, InDesign CS2 (pro page layout), Illustrator CS2 (pro vector creation), and ImageReady CS2 (Photoshop's handy web companion). The Premium Edition also includes Adobe GoLive and Acrobat.
Q: Should I purchase or upgrade to the full Adobe Creative Suite 2 (Premium or Standard) or just purchase/upgrade to Photoshop CS?
A: If you know the multimedia design is for you, you're not going to find a better all-in-one deal anywhere. The upgrade to the Standard Suite alone is worth the cost of a full InDesign CS2. You're getting 3 programs in one. Orion has the Standard CS (along with Photoshop CS2) and recommends it as a complete design environment.
If you're just getting started you may want to purchase or upgrade to Photoshop CS2 alone. It's your choice. Do a little research on what your plans are. If you have any previous version of Photoshop you can easily upgrade to CS2 for only $149 now.
Q: Why does TutorialKey Training for Photoshop CS/CS2 cost what it does?
A: Another great question. Why? Because I want to offer the most value to the most people and as an answer to expensive traditional classroom training and fairly low overhead I can price it at what it is. Remember that you're not going to find 'free' comprehensive Photoshop training anywhere. It's going to cost something to make the investment in your professional level of education.
Video tutorials allow you to learn at your own pace with the same level of knowledge you'll find in a traditional, expensive seminar or classroom setting. As long as you apply what you're learning in the training video tutorials, you will easily be able to compete with more traditional 'students'. Another advantage is that you will receive specialized training that either doesn't exist out there (because no one will tell you) or would be VERY expensive if you did find some training (such as advertising design secrets).
Q: Which version of Photoshop are the training programs in?
A: Photoshop 7 Tutorials (formerly 'Basic Photoshop') & the Graphic Design training are all in Photoshop 7. Everything else is in Photoshop CS including the bonus downloadable tutorials. In the TutorialKey Training there is a bonus DVD on the new Photoshop CS2 features which is 2.5 hours in length. All future training solutions will be produced in CS2 until the next update from Adobe comes out.
Q: Do I have to own Photoshop to get any of the training?
A: No, you can use these training solutions and the bonuses as preparation or training until you feel you are ready to acquire Photoshop 7 or CS. If you are considering purchasing the software, our education will give you a headstart and will help you understand how to use and apply Photoshop as well as a jump on the inner workings of industry secrets or other specialized areas you are studying.
The sooner you start applying the training in Photoshop, the faster you will more rapidly progress your real world level of skill; so it helps to have Photoshop handy but you can use these as a preparatory tool as well.
Q: Will this knowledge/training work on other (lesser) image editing programs?
A: Perhaps...we have not taken the time to study lesser programs but many of the tutorials may apply universally to image editing programs, dependent on each program's level of depth. The education is meant for Adobe Photoshop but the education of design and certain technical processes may be applied to other software programs but I highly recommend using Adobe Photoshop CS or CS2 (because it's the Bomb Baby).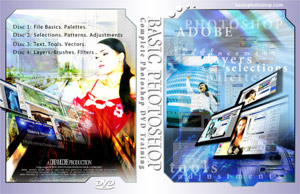 Q:

How long will it take for my order to reach me?

A:

In the the U.S. you can expect within 1-4 business days. For int'l orders, up to 2 weeks...some countries (India, Nicaragua, Malaysia, South Africa) may take a little bit longer. You can contact the TutorialKey Fulfillment House as well:

Bluestone Media Group

6808 University Ave.

Middleton, WI 53562

Ph/Fx: 608.831.0720

orderstatus@bluestonemg.com

Q:

Are the bonus downloads instant?

A:

Yes. You will a confirmation page URL link at the top of your receipt immediately after your order (may take up to 20 seconds)..take that link to your free instant download page. Otherwise you can contact orion@photoshopdesigner.com who will re-send the instant downloads access page.

Q:

Is the ordering process secure and is my information safe?

A:

Yes. We use secured.com 128bit encryption so that your information is always safe. Event as merchants, we never even see or have access to viewing your full credit card #. We will not release ANY of your information including email to ANY other source.

You can pay via credit card, debit card (or paypal on the pre-order pages where listed).

Q: Why won't the DVD's play on my DVD player?

A: First of all: Make sure you're not playing your DVD's on a CD player (yes it's happened to several of my customers). You must have a DVD drive. Make sure that you have DVD software installed on your computer (with your DVD player). For example InterVideo WinDVD or MediaMatics. Try download.com and search for DVD player. Otherwise please contact me at orion@photoshopdesigner.com and I will work with you or forward the problem to my outsourcers. Be assured we'll help you fix the problem or come up with another alternative such as sending replacement discs free of charge.

Q:

Can you tell me more about your current traffic? It seems like you haven't been online very long..

A: Due to the recent restructuring of Discover Photoshop Network, TutorialKey Solutions and TutorialsTraining was created into existence to balance out the request from Adobe themselves to disband the URL's that include Photoshop in the actual domain name. Because I am one of the few that is (through time here) complying with this request, I'm still in the restructuring process.

TutorialsTraining IS fairly new and recent and I've added all of my training solutions under the TutorialKey name (product packaging to change soon) to consolidate everything (you can find them on this site).

The Discover Photoshop network formerly consisted of these sites which will eventually be disbanded or forward to this site: BasicPhotoshop.com, AdvancedPhotoshop.com, PhotoshopDownloads.com, PhotoshopDesign.NET, PhotoshopDesigner.com, PhotoshopRestoration.com, and PhotoshopRetouching.com.

So you can be assured of the history, dedication and quality that Orion Williams, your trainer brings to the table. Because of the newness, this explains the growing Alexa & Google page rank ranking which will gain in status as the marketing efforts become focused on getting this quality of Photoshop education to the people around the world, online who are looking for their viable educational solutions for Photoshop.

Q: Can I just buy all of your training products at one time to get the most value?

A:

Yes. I have now restructured the Mega Package to include all of my training including the newest TutorialKey training so that you have the most unbelievable resources available to become fully proficient and the real training potential to become a creative professional in a fraction of the time as someone who doesn't have the training. Click here to find out about the updated Mega Package.

For Photoshop 7 Training Solution ('Basic PS') only...

Q: Why does it say "PhotoshopDesigner.com" on all of the DVD Menu Title pages?

A: Great question. One of the reasons I am offering the Basic Photoshop Training for so low is because it is simply the same quality material that was originally produced by me for PhotoshopDesigner.com but only the training material/discs that cover complete Photoshop training (and not all the advanced graphics work). I realized that it's best to offer my 'design related' products to those who felt that they are ready for that level of training. PhotoshopDesigner.com is a sister site and you can view it as an integrated promotional advertisement so you next know where to get some Photoshop Design related products after you have completed "Basic Photoshop" training! Also...that logo was meant to be 'cut off' as part of the DVD menu design. If you knew the months of painstaking time it took to develop this quality training for you, you wouldn't want to go back in and change the logo either (especially because I've lowered the price for it)! But if it really bothers you then just send it back for a full refund..it's just some great training at the best possible price you'll find anywhere (read the testimonials).

Q: Can you tell me more about why TutorialKey Solutions are such a great value?

A: All of the training solutions are an affordable alternative to the equivalent in classroom education. As long as you can apply the wealth of knowledge throughout the training programs (which are made so it becomes easy for you to understand and apply), you will save yourself a lot of headaches from trying to figure it out on your own as well as overspending on traditional education.

However, the value does comes at 'some price' because you can't expect a quality education for free. Make the investment in yourself in the areas you want to study!

More info on Photoshop 7 ("Basic Photoshop")

I noticed that there were a lack of options and training resources for Photoshop 7 education (when you consider the millions of people that Photoshop affects worldwide). Sure there are educational 'centers' and vocational schools where you can easily spend a pretty penny (not to even mention the cost of a University-yikes), but what about those who just want quality training without having to pay $1,000's of dollars (which is EXPECTED and what 'THEY' want to charge you) just to 'learn' Photoshop?! There must be a better way.

Thankfully, that's where I come in. I didn't want to spend thousands and thousands of dollars myself. Instead I spends thousands of hours (not much better) and taught myself Photoshop (and I also acquired resources such as being a member of NAPP, books, and going to PhotoshopWorld conferences, etc.)

You know what? Nothing has changed out there. Most people will pay a lot to get their Photoshop education. You don't have to. Tutorials sites online (other than this one) WILL NOT give you a complete Photoshop education. Complete training sites don't exist. BasicPhotoshop is the closest you'll ever get to real Photoshop training.

More than just 'cool' tutorials which are all over the web (that don't actually teach you anything about Photoshop itself), the Basic Photoshop training I offer actually shows you how to use the tools and processes in Photoshop. You'll be able to operate efficiently. This is much more substantial than a few cool 'tricks' and many people will pay a lot for this education. You don't have to.

I really want to offer training to people who were just like me; people looking for VALUE and tons of information from a mentor who has been there and is now a professional Photoshop user AND graphic designer.

------------------------------------------------------------

I'm looking for people who are serious about learning Photoshop and want to start applying it immediately. If you know you're not going to use the training then please don't make the investment because I don't want to waste your time or money, but if you know that comprehensive Photoshop training is right for you and you have looked at the other options, then you are definitely ready.

Even if you only want to focus on one area of Photoshop, having the complete knowledge of the entire program available will open you up to other image editing paths (no pun intended) that you never before imagined. It happened to me and I also know that it will happen to you as well.

I was a photographer at first but then really opened up to graphic design, flyers, even digital scrapbooking! I let you in on multiple trade secrets throughout the program but especially in the last few discs where you will receive just a ton of insider application knowledge.

Feel free to ask me any other questions at any time: orion@photoshopdesigner.com