This tutorial will give you a good introduction to the color replacement tool. It's always best to start out with a simpler image as far as clear distinct color 'separation' to make the selection easier that you would like to change color on.

Go ahead and first drag the background layer to the new layer icon so you can change pixels on a copied layer.
Now go to Image: Adjustments: Replace Color.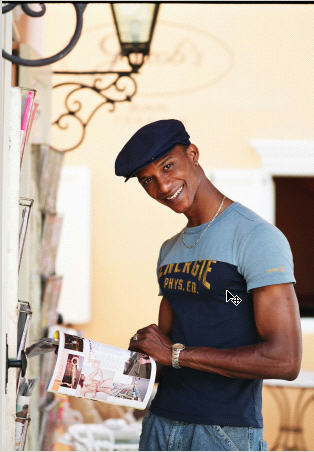 This will bring up the Replace Color dialog box. Go ahead and drag the cursor outside of the dialog box to get your eyedropper tool. Now click on a a color that you would like to change.
When you click, the color will be shown in the Color: box (where you can also change it manually but that's kind of silly here).
Now go ahead and adjust the 'Fuzziness' value. Just think of this as a way to get a sharper or fuzzier 'selection' based on brightness. You could see it as a realtime preview of tolerance settings in a way. You are selecting a color and the lower the fuzziness, the sharper your selections (white) and deselections (black) will be.
If you bring fuzziness way down to zero everything will be more deselected (black for no replacement) and far to the right it will be more selected based off of your initial clickpoint and it's color/brightness value.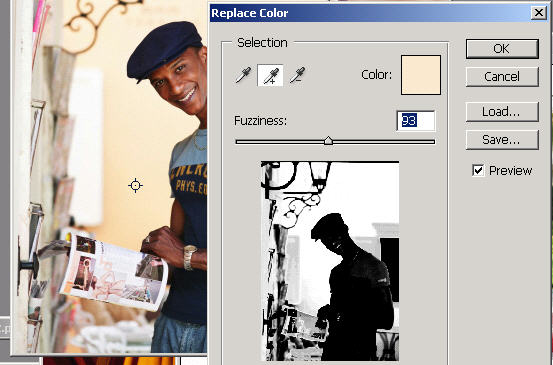 Creating a higher fuzziness make the selection more apt to choosing different pixel colors in the range, basically creating a really large tolerance setting that starts to become really ineffective for most images. What you want to do is raise the fuzziness and then bring it down so just the area you selected in the 'Selection' Preview is as white as possible.
White means it is selected in the preview box and black is what's deselected. What shows as white is the area that you have selected to replace the color on.

Go ahead and keep clicking on different parts of the image and you'll notice that the selection preview keeps changing. This is because you are choosing different shades of a color. It will show the same pixel selection across the entire image. Each time you click on the normal eyedropper you will restart another selection.

On the bottom of the dialog box you can get a realtime preview of your replace color itself, whereas the top you can keep working on the color 'range' selection. Go ahead and click on the color box down there and choose a different color (or drag the hue slider). With "Preview" on you can immediately see the results of your color range selection in progress. You can then continue making adjustments (after you press OK here).
The higher the fuzziness = more of the image selected (the lighter areas first because we started with a lighter color). You will see the replace color start to bleed through on areas such as the lighter part of his shirt.
This is why you want to get a nice contrast between white and black with white being your chosen color range selection so you can distinguish and isolate it from the rest of the image and the other color ranges remained untouched with the replacement (the darker they are).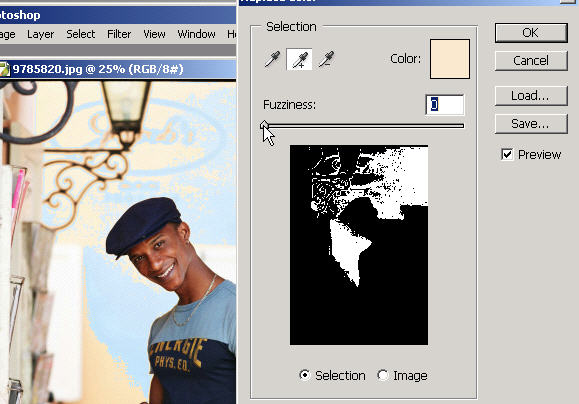 Now try choosing add to eyedropper selection (the middle eyedropper). This will allow you to keep clicking on different areas that you would like to 'add' to your selection to replace color with. You can use it to click on slightly darker shades and it will update in realtime in the preview window.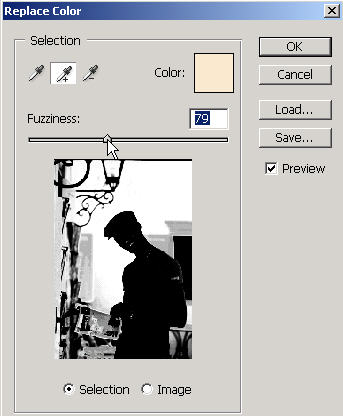 You can also try Subtract from color range eyedropper to deselect certain color ranges (which will show the realtime preview in the selection window). Just be careful when doing this; ultimately get the area you want to change color so it's selected very well.
Don't be afraid to use the add to or subtract from eyedroppers; just click where you want to add or subtract a color to the final color range selection to be replaced. It won't show all of the different color stops you are choosing, just the preview as it updates.
If you want to use replace color on another part of the image just press OK after your first one and then bring up the image: adjustments: replace color again to do another color change (on the same layer). Here I subtracted similar colors that were already selected by using the subtract eyedropper/turkey baster and adjusted the fuzziness to get a clearer selection this time off of his shirt.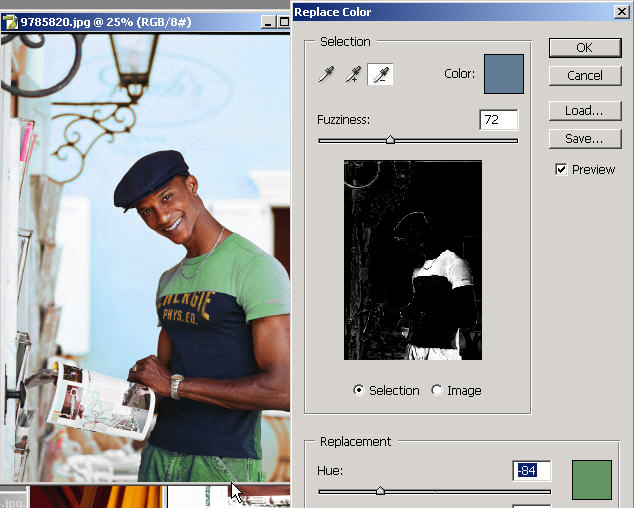 But first I went back (cancelled) and reselected (clicked on the background in the replace color dialog box) to change the background color to pink. Here I want to replace his shirt color instead of the background so I click on an area in his shirt. First look for areas that have extremely different colors (to make it easy). Click on the area you want to replace and then view the selection in the preview and use your eyedroppers and fuzziness to get the area as white as possible.
Since I've got this shirt selected (and jeans) with white in the preview box, I've chosen a replacement color from the hue slider or color chooser. Go ahead and choose your new color.
It's best if the area you want to replace is the only color within the entire image so you don't see any other white areas (similar color selected) as part of the selection. But if there are outer pixels selected as shown that's ok because you can do something coming up here..If you want all kinds of advanced yet 'real world' commercial design training make sure you get my Madison Avenue Secrets DVDs.
Now go to your layer mask icon and click it. Remember that you are on a duplicate layer that you have now changed color pixels on. By creating a layer mask you can hide pixels from this layer to let the original layer and it's colors show through instead.
Now just grab a nice large brush from your brush tool palette or options bar and with black as the foreground color go ahead and start 'masking' on those areas of color that you want to hide to let the original show through instead.
Remember all you're doing is hiding this top layer's pixels. Yes you can use the eraser but it is permanent so I highly recommend hiding the pixels with the layer mask because you can always come back and make adjustments.
Now we have the newspapers back to their original color, remaining ultimately unaffected by the color change now. Remember you can combine several Photoshop tools together like this to accomplish a goal.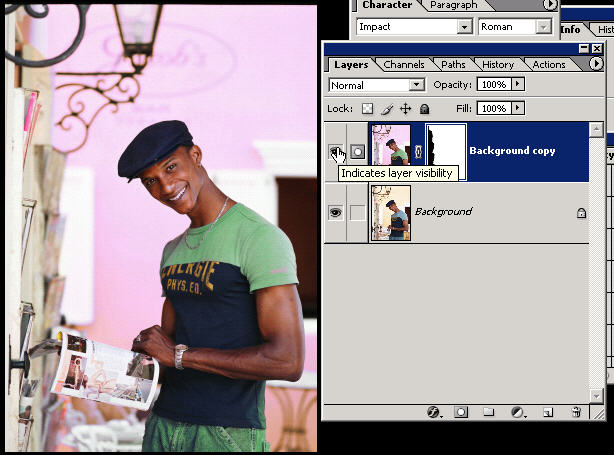 Since his pants look supremely backflash 1980's, I've taken the brush tool and also masked/painted over the pants to let the original color show through -(much better) on this Photos.com image. Press \ to view the rubylith (or at the bottom of the channels palette). Layer masking is taught in depth in my Photoshop CS training program and covered also in my Madison Avenue Commercial Design DVD's.
Here is the original.
Final practice image.
This method isn't perfect and doesn't work in all circumstances. Note how because I didn't have a perfect selection from the dialog box how the original background starts to fade into the replacement color; this is probably because I didn't add those to the selection with the Add to eyedropper. A safe bet.
Get the area you want white so it is selected in the preview box on a duplicate layer and then just hide the pixels anywhere you don't want the effect to be shown. Once again, simpler backgrounds are easier. Replace color only works on a regular layer where you can change the pixels and you can't do an adjustment layer of it.
Click below to find out about my full-color video advanced Photoshop training for advertising design. It includes 6+ hours of step by step video tutorial projects from scratch through finish.